| | | |
| --- | --- | --- |
| Britain | Scotland | 2000.06.11 - 06.18 |
Note: Britain consists of England/Wales/Scotland and The United Kingdom consists of England/Wales/Scotland/Northern Ireland.
Is Scotland a country? Before coming to Britain, we thought so. Why? In music, culture, and athletics, Scotland is presented independently. But in fact, Scotland is part of Britain - the country Britain currently represented by Prime Minister Tony Blair. But is Scotland a country? The Scottish people we talked to say yes. The English people we talked to say no. Both support their position with different historical and current facts.

Recently, Scotland was authorized by Westminster to form its own parliament. Scotland has always printed its own Scottish pounds. The monetary value of Scottish and English pounds is identical, and officially, both are legal tender throughout the entire United Kingdom. Scotland sends its own soccer team to the World Cup. Yet Scotland recognizes Tony Blair as their head of state, and Scotland is not recognized as independent by the United Nations. So is Scotland a country? The answer is: It depends who you talk to.

The Scottish people have their own language and culture. The heritage is strong. Every Scottish person we talked to was adamantly Scottish, definitely not British.

Some things don't reciprocate between Scotland and England - some things that even surprised a few English travelers we saw in Scotland:
Money: Although the Scottish and English pounds are officially identical, some English won't accept Scottish currency. We had no such trouble using English pounds in Scotland.
Soccer supporters: We overlapped with two English birdwatchers at a B&B in Scotland. That night, England was playing its opening soccer match against Portugal in the Euro 2000 tournament. The dejected English guys returned from the pub in shock- EVERYONE was cheering for Portugal. The English guys assumed that since English fans would support Scotland in a similar situation, the support would reciprocate. 5 nights later, England played Germany. Wes stepped into a pub televising the match. Again, all the Scottish people were rooting for Germany. Wes talked to an elderly Scottish soccer fan. He enlightened me. "Scotland and England are historical rivals. Everyone in Scotland supports the opponents of the English!" Our B&B host added, "It's because when England is doing well, the media praises ENGLISH soccer, and if Scotland is doing well, BRITAIN gets the credit."
How united is the United Kingdom? At the grassroots level, the rivalries between Scotland/Wales/England/Northern Ireland can be antagonistic. At a parliamentary level, Scotland and Wales are gradually gaining autonomy with the recent formation of the Scottish Parliament and Welsh Parliament. From an historical perspective, Scotland and England go to war with each other every 200 years.
Domestic bonds hold with the presence of a more frightening and larger external force. The relative peace in the world today lessens the need to be unified domestically for defense. Will the multiple cultures of the United Kingdom continue to hold together in this peaceful world climate? The atrocities of the Yugoslavia breakup are unlikely, but a U.K. split similar to the amicable division of Czechoslovakia may not be so far fetched.
| | | |
| --- | --- | --- |
| Britain | The Highlands, Scotland | 2000.06.11 - 06.17 |
The Highlands, Scotland
"The Highlands" in Scotland refers to the northern half of the country (a term I'm learning to use loosely). Relative to the rest of Britain the Highlands is higher in elevation. The terrain is mostly rolling hills and a mountain chain that includes Ben Nevis, the highest point in Britain. Naturally, as you might guess from our travels so far, we decided to climb it.
Hiking Ben Nevis (4,406 ft / 1,344 M)
We drove towards Ben Nevis without high expectations. Wes' Welsh hiking partner on Snowdon had already convinced him that Welsh mountains are much prettier than Scottish. When I told this story to the Scottish they said, "Well of course, he's Welsh!"

In fact, the hiking terrain of Scotland is terrific. By car, Ben Nevis is easily reached from Glasgow, Edinburgh, or Inverness. The trail head is a few miles from Fort William, a town that can be found on a map of the United Kingdom.



Ben Nevis helpful hiking information:

No permit, registration or fee is required to hike Ben Nevis.
A 35 pence leaflet titled "Ben Nevis - Walking the Ben Path" is available at a Tourist Information Centre and is worth buying and reviewing. Detailed topological maps are not necessary.
Facilities are at the trailhead.
Although Ben Nevis is low elevation, the clouds move fast and the weather can change from sunny to dense fog in a matter of minutes. If you are not familiar with the mountain, do not attempt the peak in the fog. There is one small snow filled bowl at the top that deceptively looks stable. One step on the loose surface will be your last.
Carry 1 liter of water and light snacks.
Hiking time: 3.5 - 5 hours.
Distance: 10 miles round trip.
Difficulty: easy (as long as the weather is good).
| | |
| --- | --- |
| | Ben Nevis from afar. Although the elevation is low, the northern climate means snow cover into the summer. |
| | The ascending view is spectacular on a clear day, of which there are reportedly few. Surrounding Scottish hills and lakes abound. |
| | The peak of Ben Nevis is normally in a thick fog. We were fortunate. The afternoon sky was cloudless and the surrounding view was spectacular. |
Loch Ness, home of Nessie the monster
Loch in Gaelic (the language of the Scottish people) simply means "lake". The funniest lake name we saw was Loch Lochy.
Lock Ness, the long narrow lake stretching from Inverness to Fort Augustus, is the home of the mythical dragon monster affectionately called Nessie. The lake was serene. We didn't see Nessie. She must have been on summer vacation.
| | |
| --- | --- |
| | An angled shot of Loch Ness. The lake is about 1/2 mile across and about 20 miles long. Nessie, the Loch Ness Monster, wasn't home. |
The Malt Whiskey Trail
The Malt Whiskey Trail is an area east of Inverness with half a dozen whiskey distilleries. The Glenfiddich Distillery and Speyside Cooperage tours were recommended by our B&B host so we gave them a try. Both are very close to Dufftown.
The free hour-long tour at Glenfiddich was thorough and enjoyable. Actual whiskey production was shown from the mashing of barley to purification of the final distillation. The tour finished with a free drink. The choices were a sample of 15 year old Glenfiddich whiskey or a Glenfiddich liqueur. Masami and Wes shared a liqueur sample. Unfortunately, because of our low alcohol tolerance, we had to rest an extra 90 minutes in the distillery waiting room before continuing our site seeing.
In addition to the full production process of malt whiskey, we learned that "Scotch Whiskey" merely means "blended whiskey", not "whiskey from Scotland".
At Speyside Cooperage, we witnessed the production and repair of barrels used at a majority of the distilleries in the area. The coopers are paid per barrel, and as a result, they work so fast that we became exhausted just watching them. Coopers who work at Speyside must complete a 5 year apprenticeship and pass a final exam. According to our tour guide, they make about three times the average wage in this area of Scotland.
| | |
| --- | --- |
| | Inside the Glenfiddich Distillery. Whiskey is distilled twice in these odd shaped copper containers to raise the alcohol content. |
| | Speyside Cooperage production area. This cooper is heating the inside of his barrel to expand the wood and make it water tight. |
In London, we bought a B&B guide titled "British Bed and Breakfasts". We stayed at many listed. All were good. The one in Boat Of Garten, Scotland was fabulous. Boat Of Garten's central location makes most of the Highlands accessible by car, and thus is a good base from which to take day trips. Elizabeth runs the B&B called The Old Ferryman's House - it's her house but she kept the original name. She's a qualified chef and cooks the best food in Britain. We extended our stay twice to enjoy quality breakfasts and dinners.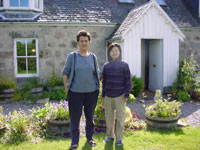 Contact information:
The Old Ferryman's House
Boat Of Garten, Inverness-shire PH24 3BY
Scotland
Tel/Fax 01479-831370 (within the United Kingdom)
Tel/Fax +44-1479-831370 (international)
Call ahead. Sometimes this B&B is closed.
Elizabeth and Masami in front of the B&B. Fresh vegetables used in the meals grow in the plant beds around the yard.
| | | |
| --- | --- | --- |
| Britain | Edinburgh, Scotland | 2000.06.17 - 06.18 |
Edinburgh, Scotland (or the city of misfortune)
Nothing really bad happened in Edinburgh. But after 3 weeks of absolutely perfect travel in Britain, things didn't go so well. Here's a brief recap of our 24 hours in Edinburgh.
Finding the Youth Hostel: We decided to stay at the Youth Hostel because all of the reasonably priced B&Bs were full. Having not read the Lonely Planet guide entry carefully, we went to the wrong address in a crappy part of town and ended up having to buy an expensive map to find the place.
Italian Dinner: Deciding to have a nice meal, we went to what appeared to be a classy Italian restaurant. The bread served was moldy and Masami lost her appetite. We cancelled our meal and left.
The Youth Hostel: We thought we'd meet some interesting young people at the hostel. Apparently, nobody wants to talk to anyone at this hostel. Masami got the top bunk in the middle of her room. The bed was narrow and high off the ground. No sleep for Masami.
The Internet Cafe: After trying to configure the ftp software, we wonder why our web host doesn't respond. "Yeah, we have telnet but nobody seems to be able to telnet from here," says the "technical" staff.
Edinburgh Castle: Masami picks a fight with a guy 3 times Wes' size because he's cutting in line!
Lunch: Masami orders poached salmon and out comes chicken. Masami tells the waiter, "I ordered salmon". The waiter says, "Well I was told to bring these plates to this table". What ever. Masami ate chicken.
The train ride to Haymarket Station: Masami thought we should ride the train in Scotland at least once. Instead of walking 20 minutes back to our car, we decided to take the train one stop. The train information advised that we buy the train ticket on the train. "Which train goes to Haymarket?" Masami asks. "They all go to Haymarket" the information counter says. We take a train. It doesn't go to Haymarket. 90 minutes and 2 more trains later, we finally reach our car.
The Harley Davidson shop: Since Father's Day was coming up, Wes thought his dad would love an Edinburgh Harley Davidson t-shirt. The Tourist Information Centre circled the store location on our map. We drove. There ain't no Harley shop there. Wes called directory assistance. There ain't no Harley shop anywhere in Edinburgh.
Nothing we did in Edinburgh was right. A day of this nonsense was enough. We left.
| | |
| --- | --- |
| | Edinburgh castle is pretty from afar. Inside, there are long lines of tourists - Masami met one of them. The audio tour was the worst in Britain, and every other room was a gift shop or cafe. There's no need to pay the small fortune to enter this castle. |
| | Scottish guards stand outside the Edinburgh Castle entrance. It takes fewer guards to change a guard in Scotland than in England (see the Windsor page). |
---
---
Copyright © 2000-2002 Wes and Masami Heiser. All rights reserved.