| | | |
| --- | --- | --- |
| Britain | Stonehenge, England | 2000.06.04 |
The Rocks of Stonehenge
As the locals say, "Go to Stonehenge so you've seen it". There are many unanswered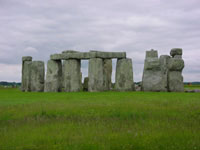 questions about Stonehenge, and going there won't answer any of them. Stonehenge is a circular group of rocks of different composition than those found nearby. Somebody had to carry these multi-ton stones from over 100 miles away, but nobody knows why.
Each rock is about 2 meters in height. Compared to local stones, these are warm to the touch because of the different mineral composition.
| | | |
| --- | --- | --- |
| Britain | Avebury, England | 2000.06.04 |
More Rocks in Avebury
About an hours drive north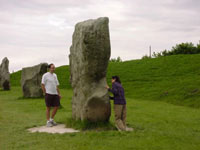 of Stonehenge is the town of Avebury where more mysterious rocks are placed in a circle. The circle in Avebury, however, is about a kilometer in circumference. Some find Avebury remarkable. To me it was a bunch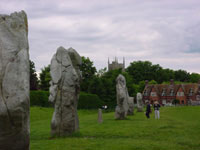 of rocks and a pleasant afternoon stroll around the town.
Tim and Masami inspect a rock in Avebury. Yup. It's solid, heavy, and real.
A walking path along the rocks is a pleasant afternoon stroll. The many grazing sheep think so too. Watch your step for sheep droppings.
| | | |
| --- | --- | --- |
| Britain | Salisbury, England | 2000.06.04 |
Salisbury Cathedral
Built between 1220 ~ 1258, Salisbury Cathedral is said to be the most beautiful medieval architecture in England. The spire was constructed 100 years afterwards.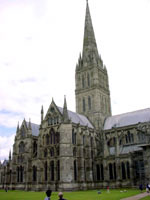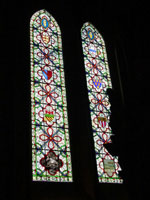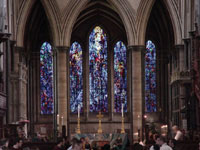 ---
---
Copyright © 2000-2002 Wes and Masami Heiser. All rights reserved.