Bath is most famous for its ancient Roman baths. Before going to Bath, I pictured myself at a spa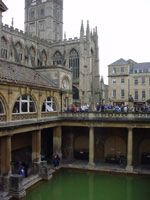 surrounded by 2000 year old pillars and statues as I soaked in a hot bath totally relaxed. There's an admission fee to enter the baths, but don't bring your bathing suit. To my disappointment, the baths are no longer in use. There's a self guided tour around the preserved ruins and a sign above the ancient main bath that says, "Original Roman water. Do not touch". Jumping in isn't an option.
The bath sits at street level as it was 2000 years ago. As new cities were built over older cities, the street level gradually rose. The street level of today's city is 6 meters above the bath.
Bath Abbey, the other main tourist spot of Bath wasn't very spectacular. Would I go to Bath a second time? Probably not.