London is a fabulous place to wander about. Famous places abound at every turn. People are friendly and helpful. Backpackers are everywhere.
London bustles with art, plays,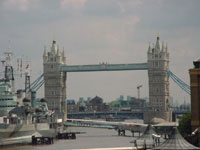 cathedrals, and street markets. Everything is immediately within reach, but prices are high high high. Expect to pay 50% more compared to the US.
We discovered some useful backpacker conveniences on our first day.
If you are coming to Central London by train, purchase your ticket after 09:30 and pay a few pence more for a Travel Card. The Travel Card option gives you unlimited access on the "tube" (subway system) and buses all day. The savings and convenience is tremendous. A few price comparisons: 1) a Single (one-way) train ticket from Gatwick Airport to Central London Park is £9.70, and a Single plus Travel Card is £10.00. 2) A Single from Reading to London is £10.00 and a Return (round-trip) plus Travel Card is £13.10. In additional to giving you the flexibility to hop on and off any tube and bus, Travel Card holders don't need to wait in lengthy lines to purchase tickets!
The free "Central London bus guide" has everything you need on a map of Central London. It lists bus routes, tube stops, places of interest, and all major roads. There's no need to purchase a map of the city.
For £4.00, you can leave a piece of luggage at Left Luggage located in Charing Cross, Victoria, or King's Cross train stations. Left Luggage is a business that is open from 07:00 - 23:00 daily. How nice it is to walk the city without a heavy backpack!
The main Tourist Information is in Victoria Train Station. Most information is free. They sell a map of Britain for £2.00, but it's not detailed enough to be useful. Instead, buy your maps at a bookstore.