Windsor Castle is an official residence of The Queen. The Castle, which has been inhabited for over 900 years, is a working palace and official engagements may limit those areas open to visitors. Admission is usually possible to the State Apartments, The Gallery, Queen Mary's Dolls' House, St. George's Chapel, and the Albert Memorial Chapel. Adult admission is a steep £10.50, but worthwhile.
The town of Windsor seems to thrive on tourist's money. The shops are numerous and elegant. Car parking is very difficult.
At the Royal Oak pub on Datchet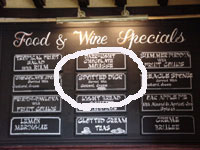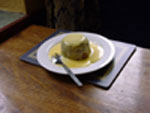 Road, we saw a menu item with an interesting name.
The menu reads "Spotted Dick served with Custard Cream". We found out this is a common South England term for bread pudding as shown at the right.
Was it good? No.
We spent about two hours at Windsor Castle walking through the lavish State Apartments and St. George's Chapel. Unfortunately, photography within the buildings is prohibited.