Waiting for the rain to clear in Chamonix, we looked for something new to see. The hotel receptionist in Chamonix recommended that we go to Annecy (pronounced ann'-see).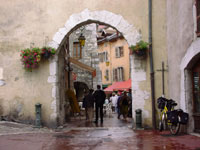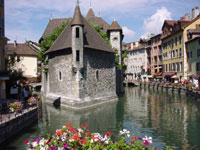 Finding a train ticket was easy. We went.
Annecy has a charming old section that claims to be the oldest settlement in France. The first settlers arrived in 4000 BC, a whopping 6000 years ago. Other that roaming the old section of Annecy called Le Vieux Annecy (not to be confused with the adjacent city Annecy Le-Vieux), we didn't find much else. It was a good escape from the rain for a few days.